Life is great!
Have you ever woken up, looked outside and noticed that your car was stolen, your neighbor's dog is pissing in your garden, and that the sky is grey, but still said to yourself: life is great!
I know, I know. It's the end of the summer and we're supposed to be feeling gloomy. Back to work, back to school, back to boring ol' routine, but for some inexplicable reason, I am so happy. Watch me dance! Whoa, I didn't even know I could do a flip.
What's that you say, auto theft isn't covered by our insurance, the neighbor himself is now pissing in our garden, and it's going to rain all week? Nobody cares, not when life is this good. Watch me jump off the couch. I can fly!
Yes, darling? Your brother is throwing knives at you? Tell him to stop or … or nothing. Just try to dodge them as best as you can. Ouch, that must hurt. Could you please go outside to bleed? I don't want our carpets to get stained. Oh, nevermind. That's what professional cleaners are for. Bleed all you want. I feel so awesome!
Oh my goodness, is it 5pm already? Kids, time for bed! Dinner? Never heard of it. Yes, you can sleep in your clothes. Oh, you don't want to go to your bedrooms? No problem! Sleep right there on the floor in front of the TV. Hungry? Here's a bag of sugar, three spoons, and a bottle of warm Fanta to wash it all down.
Phew! The kids are fed, the house is only moderately destroyed, and finally I can relax. Time to head up to the bathroom, sit on the floor, and begin my evening ritual. Waiter, could I have a bottle of your best pinot noir? Just one glass, I'll be drinking alone, haha. You keep bottles of wine hidden under the sink? So funny, me too!
Outside, the world might be grey, but don't let that fool you. It's the best time to be alive! Relief is almost here.
Inge Dinkeldorf is a Luxembourg resident and parent of three young children
*****
It's the end of the world
Call me a pessimist, but I feel that a great scourge is upon us. I don't know what it is — the changing weather, the disappearing daylight, or something else that I can't exactly put my finger on — that is giving me this premonition, but I sense that life is about to get really bad, really soon.
Everything should be fine, right? I spent a wonderful three weeks with my partner on the Croatian coast, overlooking the beautiful Adriatic sea, my days full of relaxation, good food and wine, and long walks along the beach in the evening.
The calm before the storm.
Everything is awful and getting worse by the minute. I feel it in my bones. The end is near. The sky is a swirl of black clouds and despair, and this feeling of doom will only deepen. There is no hope. Darkness is all I see.
Calm down, Fabienne. This is all in your head. Everything is fine. You own a cute, two-bedroom house in Limpach. You have a supportive family, a gorgeous soft cat who loves you and usually remembers to use the litter box. Plenty of friends. Yes, and health. And financial security. A job, yes, a good job. You teach at a primary school, remember?
What's that I hear, a thousand screaming, squealing voices? Are they phantoms? Creatures from the underworld? They come to torment me, I know this, but I don't know what I have done to deserve this fate.
There is no escape. They are coming for me. Do you see them too?
Fabienne Nicolay is a primary school teacher in Luxembourg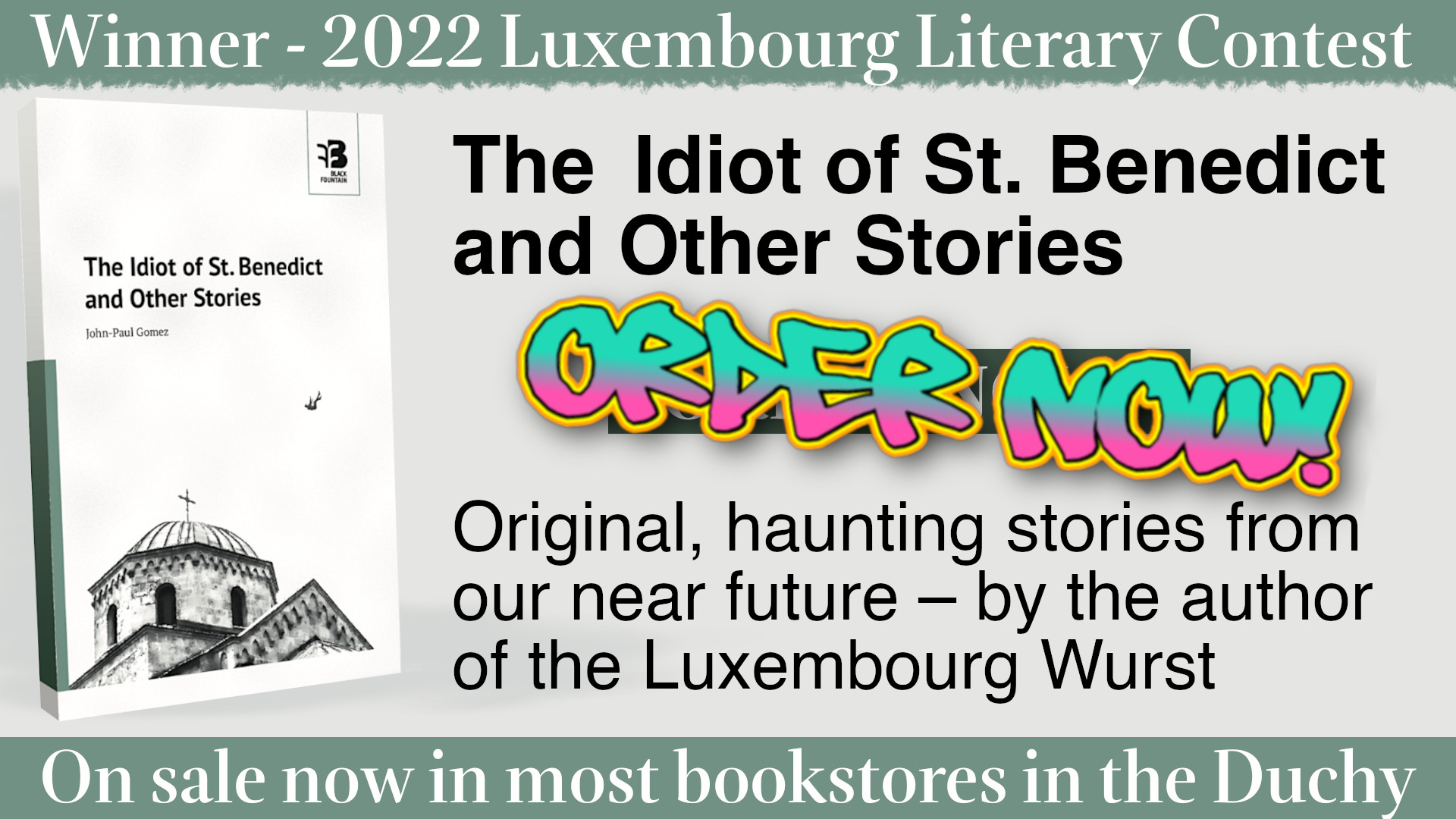 Check out our archives of 800+ articles, enough to make your eyes bleed!